NEW YORK CITY ONLY TEXT ORDER LINE --
TEXT US YOUR ORDER day or night. Simply text Hello and follow the instructions.  You can use this line for delivery orders, SHIPPING OR pick-ups from our Manhattan location only. All Astoria orders must be called in directly to our Astoria store as there is no text line currently available for Astoria.   718-626-8590
Our Automated Human Companion will answer you and guide you through the order process if you text during regular business hours. If you text after hours, AHC will answer you the very next morning.
Our Text number is:   646-374-1907
Text "Hi !" to us and start saving now!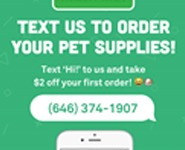 COVID-19 UPDATE
OUR RETAIL LOCATIONS ARE FULLY OPEN 7 DAYS A WEEK
Whiskers has made adjustments to keep you and your pets healthy and safe with their necessary food, vitamins, treats and supplies.  Although many manufacturers have had shortages, we are ordering weekly and are trying to have everything your pets need at all times. Please note our current guidelines:
PICK-UP ORDERS: ASTORIA PICKUP ORDERS MUST BE PLACED DIRECTLY WITH OUR ASTORIA STORE BY CALLING 718-626-8590. All Pick-up orders are processed as quickly as possible. When your order is ready, WE WILL CALL YOU to let you know your order is ready for pickup. Please do not just come to the store. Supply and distribution may be limited. If we are out of stock, we will call you for substitutions or to see if you want to wait until your product arrives.
ALL FROZEN FOOD: All Frozen Food Orders MUST BE SHIPPED USING OVERNIGHT SERVICE. There are additional charges not listed here for overnight shipping. We will call you with all the additional details and the amount due before any frozen food is shipped. Additional shipping charges must be paid prior to shipping. There are no additional charges to order frozen food for pickup or home delivery.
NEW YORK CITY & ASTORIA QUEENS DELIVERIES:  All deliveries throughout Manhattan, Brooklyn, Queens and The Bronx are being delivered on our regular schedule.
IN-STORE PURCHASES:  Both stores are completely open to in-store shopping.  IF YOU PREFER, YOU CAN STILL PRE-ORDER AND WE WILL BRING YOUR ORDER OUT TO THE SIDEWALK.
----------------------------------------------------------------------------
THIS SITE IS ONLY FOR SHIPPING ORDERS. IT WILL NOT TAKE ANY ORDER FOR A HOME DELIVERY WITHIN MANHATTAN, QUEENS, BROOKLYN OR THE BRONX WITHOUT ADDING SHIPPING CHARGES! YOU CAN PLACE A PICK-UP ORDER HERE FOR THOSE AREAS. DO NOT PLACE ANY ORDER FOR PICK-UP IN OUR ASTORIA LOCATION. ASTORIA PICK-UPS & DELIVERIES MUST BE PLACED BY CALLING 718-626-8590.
-----------------------------------------------------------------------------
PLEASE USE THIS SITE TO MAKE YOUR PRODUCT SELECTIONS.  AFTER YOU KNOW WHAT YOU WANT, CALL OUR TOLL FREE NUMBER (1-800-WHISKERS) OR USE OUR ORDER TEXT LINE IF YOU LIVE IN MANHATTAN ONLY (646-374-1907) TO ACTUALLY PLACE AND SCHEDULE YOUR ORDER. 
LITTER AND OVERWEIGHT PRODUCTS COULD INCUR ADDITIONAL SHIPPING FEES. IF THIS IS THE CASE, WE WILL CALL YOU PRIOR TO SHIPPING OUT YOUR ORDER.